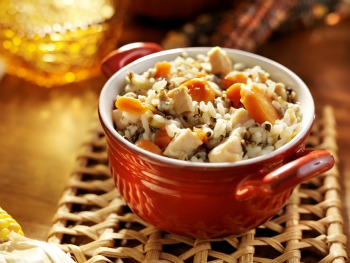 Trends are always coming and going in the culinary industry, just as the hottest fashion styles change from season to season. This occurs as chefs change their own culinary essentials – inspiring and challenging them to push beyond their own boundaries, and setting these new trends into motion.
Fall is quickly approaching, so what new food trends can you look forward to? We've surveyed the culinary landscape and have come up with a few trends you'll definitely want to pay attention to:
Bread and Butter
According to Bon Appetit Magazine, the hottest fall trend since sliced bread is – you guessed it – bread. You won't find top restaurants serving you plain old dinner rolls any more. Instead, you'll find extensive bread and butter programs. Some restaurants even charge for their elaborate bread baskets, just as they would for a regular appetizer.
Other restaurants deliver signature bread, made in-house and served with a custom house-made butter. Brooklyn's Governor in New York, for instance, offers a warm sourdough loaf that takes 36 hours to prepare, starting with a fermenting process and ending with the final baking. This bread is served with its own house-made butter. In Miami, FL, Bread+Butter, offers a Cuban-influenced menu that includes Cuban Parker Rolls & Palitroques "bread service," served with house jams, butters and whipped fat options.
Alternative Grains
Say goodbye to traditional sides like mashed potatoes and carrots as more restaurants this year are featuring a slew of new grain options, including quinoa, spelt and amaranth. According to Delish.com, Chef Logan Cox of Ripple in Washington, DC, serves a beet salad with puffed amaranth. "It adds more flavor than bread crumbs," says Cox.
Vegetables as Main Courses
What else has been seen at restaurants across the country? Veggies are getting the spotlight treatment. While some blame it on the economy and the rising cost of meats; other chefs – like Scott Conant, executive chef and owner of the Scarpetta group of restaurants – think that these trends can be better attributed to health-conscious foodies.
What kinds of vegetable entrees can be found in today's culinary wonderlands? Imagine dishes like roasted butternut squash with bacon vinaigrette taking center stage over meat dishes. Vegetables are also being used in desserts. For example, according to CulinaryTrends.com, pastry chefs are whipping up sweet creations like pea-infused panna cotta and beet cheesecake.
Desserts Go Miniature
Speaking of sweets, you can say goodbye to the days of super-sized desserts overflowing with hot fudge and multiple scoops of ice cream. These days, upscale restaurants are offering sweet treats like cheesecake lollipops or desserts small enough to fit into a shot glass. Even niche food shops like Baskin Robbins and Dunkin Donuts are rolling out smaller portions which cut inventory costs and appeal to health-conscious consumers.
Figs
From salads and appetizers, to desserts and marinades, figs are an emerging trend in the culinary scene. According to Food & Wine Magazine, many chefs are even putting their own spin on the age old favorite "Fig Newton" cookie. Three new cookbooks have recipes for the fruit-filled cookies: John Barricelli's The Seasonal Baker, Alana Chernila's The Homemade Pantry and Baking Out Loud by Hedy Goldsmith, who adds red wine and anise to the filling.
Yogurt
Read just about any food blog these days and there seems to be a general consensus – yogurt is a hot topic. And we're not just talking Greek yogurt – we're talking homemade yogurts being used in everything from salad dressings and chicken marinades to rich stews. Much of today's yogurt is creamier in texture and higher in protein than its predecessors, making it a better base for delicious desserts like smoothies and yogurt bars.
Mediterranean Influence
In addition to yogurt and figs, many other Mediterranean staples are dominating the culinary landscape. At this year's Fancy Food Show in New York City, culinary products like goat's milk, sheep's milk, olives, olive oil and feta cheese garnered tons of interest from chefs and foodies alike. The Mediterranean influence has already been seen in many restaurant kitchens around the country with lamb and goat replacing traditional steak and chicken.
Inspired by Peru
Peru is another country claiming the spotlight in the culinary world this year. Yes, Peru. According to Nation's Restaurant News, 2013 was the first year the country of Peru exhibited at the National Restaurant Show and attendees were nothing short of impressed.
The National Restaurant News website reported, "Peruvian chef Ricardo Zarate of Mo-Chica and Picca restaurants in Los Angeles was at the booth serving beef tartare with aji amarillo leche de tigre, anticuchos made with artichokes imported from Brazil, and quinoa tossed with feta cheese, miso and patty pan squash. Stuffed corn cakes called arepas, which come from Peru and its neighbors, were available at other booths."
Going Beyond Blackened
Whether it's fish, chicken, or beef, chefs are using ash as a way to add smokier flavors to their meat dishes. According to Food & Wine Magazine, "At L'Espalier in Boston, Frank McClelland uses vegetable ash to coat veal loin. In New York City, Gwynnett St's Justin Hilbert stains chicken with hay ash."
Superfoods
Though this isn't exactly a new trend, demand from health-conscious foodies means that the restaurant industry will continue to see a departure from fried foods and entrees dripping in sauces to lighter, healthier options. How are chefs "doing" healthy these days? Superfoods. Chefs are using superfood ingredients like seaweed, mint, and pomegranate are helping chefs create new and innovative dishes that are also high in antioxidants.
So now, we want to hear from you. What restaurant trends do you see coming on the horizon this fall? Share your insights in the comments section below!